Greeting the early spring of each year, sweet violets, violas, violettas, and pansies, favourites in gardens world wide, rarely fail to make one smile with their charming little faces.
Pansies differ from violets in that pansy flowers have four petals pointing upwards and only one directed downwards.
Meet the family
Sweet Violet
Best-loved of the true violets, Viola odorata, with its modest charm and heady fragrance, has been a regular in gardens since the Medieval period, and is an easy-to-grow excellent ground-covering perennial. In early spring the vitamin rich tender leaves and bright flowers of sweet violets (Viola odorata) have long been used to add colour and flavour to salad greens.
7cm in height with a 30cm spread
Moderately heavy, rich soil in semi-shade
Propagate by seed, cuttings or division
Other violets that can be added to cooked greens, or in salads include birdsfoot violet (V. pedata), Canada violet (V. canadensis) and marsh blue violet (V. cucullata).
Heartsease Pansy / Viola
The wild pansy (Viola tricolor), also known as Heartsease or Johny-Jump-Up, is a personal favourite of mine. With endless subtle changes in the three colours – yellow, cream and purple that give them their name tricolor – each flower is unique and exquisite. Self seeding easily, they live up to their name of "jumping up" every springtime – even in the most unlikely places. Very easy to grow, and greatly rewarding.
15-30cm in height with a 15cm spread
Any soil in partial shade or sun.
Propagated by seed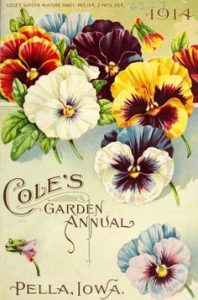 Pansies
It is reportedly from the wild annual heartsease (V. tricolor), and the perennial violetta (V. cornuta) that the many varieties
and hybrids of pansies (V. x wittrockiana) were developed. Attracting lots of attention from plant breeders, each year sees a multitude of colours and sizes of pansies available to the gardener. Most are grown as annuals, although there are perennial cultivars available. Slightly more fussy than their wild counterparts, they are still some of the easiest flowers to grow, preferring a richer medium than heartsease or sweet violets.
15-30cm in height with a 15cm spread
Rich in a sunny site.
Propagated by seed

.
Horned violets
The perennial violetta or horned violet (Viola cornuta) with their small pansy-like flowers are mostly grown as an ornamental.
Use as an Edible Flower
With their gorgeous showy petals, all the violas and pansies make for delightful additions to salads, and their mild flavour perfectly compliment soft cheeses, and butters. Fresh, or candied they make striking edible decorations for cakes, cookies and other baked delights.
Recipes
Fairy Flower Salad (coming soon!)
For more recipe ideas, see my Pinterest profile on Edible Flowers
References
Botanica's Pocket Organic Gardening The A-Z of healthy gardening, h.f. ullmann @2007
A Concise Guide in Color – Herbs, Hamlyn @1973
Jekka's Copmplete Herb Book, Kyle Cathie Ltd @1994
Cooking with Flowers – A Bouquet of Tasty Recipes, Wardlock @1991
Good Enough To Eat, Kyle Cathie Ltd, @1997
Wikipedia.org
Botanical.com