Edible flowers –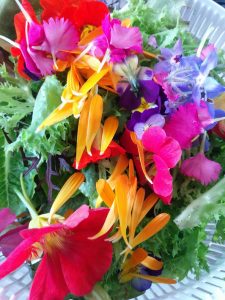 Enchantingly beautiful and pleasantly flavoursome!
Edible flowers are one of my most requested topics  and the plants are some of our best sellers.
Eating flowers has seen a resurgence in interest recently, but the practice actually has a long history. Ancient texts and pictograms hint at the use of flowers as a foodstuff from ages gone past, and through various cultures across all the continents.
Nowadays, adding colour and flavour to food with flowers is all the rage, and even celebrity chefs and healthy living activists include flowers in their recipes.
I love growing the flowers for their beauty in the garden, and many of them are brilliant companion plants for vegetables too, and then having a third use for them by harvesting and enjoying them as a food definitely makes them worth growing!
As with all herbs, caution should be taken as many flowers are definitely not edible, and a few are really poisonous. Individuals may also have specific allergic reactions to certain flowers, so be sure to follow our guidelines for the safe and happy use of flowers in your food.
Follow the links below to find out more about specific edible flowers – find growing and use information, recipes and ideas. Or book me in for a talk and demonstration on Edible Flowers for your next garden club gathering.
Do's and Don'ts regarding eating flowers
Edible Flowers #1: Violas and Pansies
Edible Flowers #3: Delightful Dianthus
Edible FLowers #4: Weed Flowers
Edible Flowers #5: Culinary Herb Flowers
Edible Flowers #6: Hollyhock, Marshmallow, Hibiscus, Abutilon
Edible Flowers #8:
Edible Flowers #9: Citrus Blossoms