Yarrow (Achillea millefolium)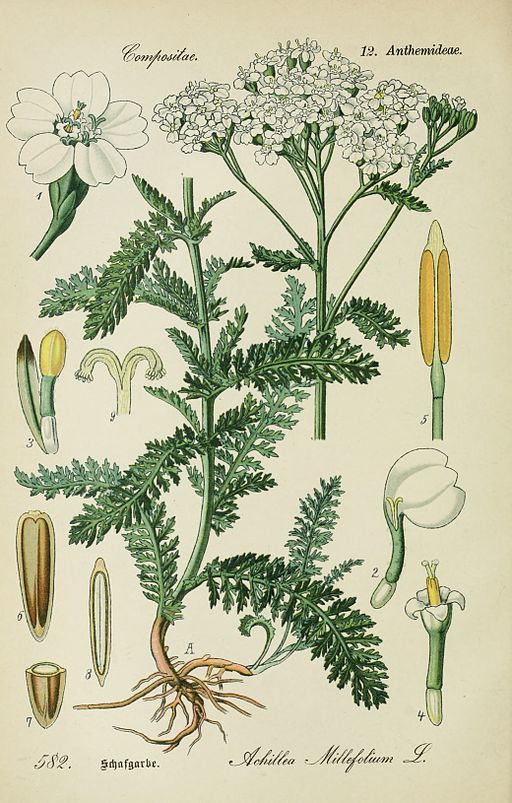 "It is a principall herbe for all kinde of bleedings, and to heale up new and old ulcers and greene wounds. The plant Achilles is thought to be the very same, wherewith Achilles cured the wounds of his soldiers." ~John Gerard, The Herball, 1597
Yarrow stalks are used in the I Ching as a divination tool.
Description
Millefolium means "thousand leaf" and the finely feathered leaves of this perennial suits the name very well. The pale grey-green stems of Yarrow are tough and normally grow to 30cm, but can reach up to 1m, bearing masses of small white to pink flowers in early spring to late autumn. Other flower colours such as orange-red ('Paprika'), magenta ('Cerise Queen') and lilac-pink ('Lilac Beauty') are available as cultivars.
Ideal growing conditions
Yarrow is fully hardy and grows best in a well drained soil and a full sun position.
Note – Yarrow can become invasive if not kept in check.
Propagating
Seeds: sown in spring or autumn; do not sow directly
Plant division: divide plants in spring or autumn
Companion Planting
Yarrow is a plant doctor, similar to Chamomile, and is said to revive or strengthen ailing plants in its vicinity. The flowers of yarrow are attractive to beneficial insects such as hoverflies and ladybirds.
Although it is good planted with almost anything, it is particularly suited to aromatic plants, fruit trees and grape vines.
Harvesting
The leaves and flowering tops are harvested in summer and dried.
Uses
Culinary: The fresh young leaves can be added to salads in moderation.
Medicinal: Yarrow works exceptionally well as a tea for feverish illnesses, such as colds and flu. It has also been indicated as an effective herbal remedy taken internally for arthritis, rheumatism, hypertension, diarrhea and menstrual complaints. As a quick first aid, crushed leaves are said to staunch blood flow and can be used for cuts, grazes, scrapes and nosebleeds.
Recipe for Yarrow, Peppermint and Elderflower tea for colds and flu with fever
1 tsp. dried peppermint
1 tsp. dried yarrow
1 tsp. dried elderflower
1 tsp. lemon juice
honey to taste
Infuse the herbs in 2 cups of boiled (not boiling) water for a minimum of 5 minutes, add lemon and honey to taste
Household: Yarrow flowers are long lasting and are often added into bouquets, or dried flower arrangements and pot pourris. The leaves are also useful as a copper rich fertilizer which can be used as an antifungal spray on leaves for powdery mildew. A few leaves added to the compost is also said to speed up decomposition.
Notes
Prolonged use of yarrow may cause rashes and increase sun sensitivity of skin. Not to be used by pregnant women. Taken in too large doses, it may cause headaches and dizziness.
Other names for Yarrow
yarrow, milfoil, woundwort, thousand leaf, duisendblad, achillea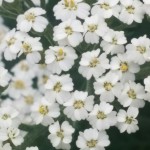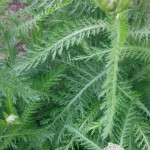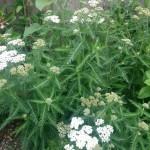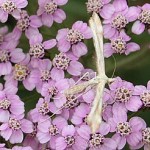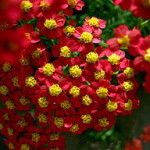 Sources


The Royal Horticultural Society Encyclopedia of Herbs, DK, 2008
The Complete Book of Herbs, Lesley Bremness, DK, 1995
Smithsonian Handbook of Herbs, Lesley Bremness, DK, 2002
Jekka McVicar New Book of Herbs, Jekka McVicar, DK, 2004
Folia
Botanical.com
Walden Labs