Quintessential to a perfect vegetable and herb garden (I think!) are the beautiful large bright yellow heads of sunflowers!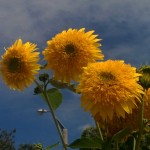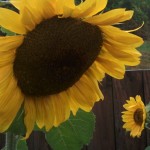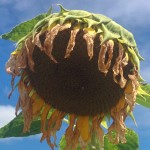 Besides their happy looks, they are quite useful too, sunflowers –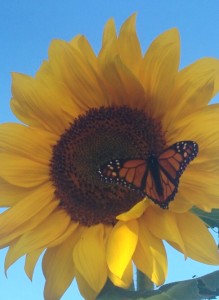 >attract a host of beneficial insects such as bumblebees, bees and monarch butterflies to your garden.
> they are fabulous for kids' gardens! Why not have a sunflower growing competition in the family? Or grow a sunflower house (a task I'm putting to myself for this coming late summer).
> have edible petals, try them in salads for some colour
> have edible seeds, use in baking, salads, or eat them straight up for an energy rich snack
> make sturdy support poles for vine plants while they grow – e.g. sweet peas, and even tomatoes and cucumbers can have a lean-to on a sunflower stalk
> are great companion plants for swan plants (mutually beneficial), peppers, corn, tomatoes, watermelon, lettuce, cucumber and squash. Avoid pototoes and beans though…
Now that my first plantings of summer sunflowers have lost their large outer petals and are nodding their heads down, it is time to harvest the seeds. Follow me through these steps to harvest and save your own sunflower seeds: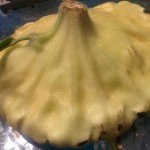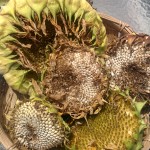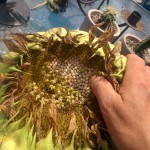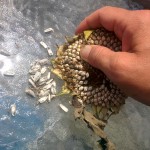 When sunflower seed heads turn downward, and the backs turn from green to a yellow or a brown colour, they are ready to harvest. Cut the seed head off with secateurs, leaving a few centimeters of stem attached.
Be sure to leave the seed heads in a dry and well ventilated area for the seeds to dry and harden.
Brush off the spent inflorescence.
Loosen seeds by rubbing the seeds in a circular motion. Once some has come out, the rest are easier to loosen and drop out.
Note – if you want to grow seeds from your sunflowers, I have read that it is best to use the outer seeds, which are larger than the inner seeds. Save your seeds in a dry, airtight and cool environment until you are ready to use them.
Enjoy your sunflowers!