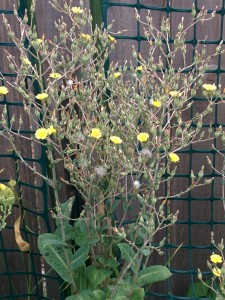 Many people see the tall upright stalks of bolting lettuce as unattractive and unruly in a garden, and with the lettuce leaves becoming tougher and more bitter as the plant goes to seed, it is generally a sign to pull them out and make space for something new to grow.
But I simply love the dandelion-like flowers and seed puffs of the maturing lettuce plant, and getting to harvest some seed to start a next lot growing is reason enough to not simply cart the plants to the compost bin. If you do like your garden more ordered and less wild, however, you'd be happy to know that one plant will give you more than enough seeds, so you needn't keep more than one bolting lettuce (per variety) in your patch.
The lettuce takes quite a while to get to seed stage – about a month from when it firsts starts to bolt, and the plant can get quite tall – about 60 – 90cm high, so if you'd like to harvest your own lettuce seeds, you are going to need some dedicated space for a while, and some patience.
Lettuce has a staggered approach to budding, flowering, and eventually maturing seeds – meaning that for a long while you may have flower buds, flowers, and mature seed heads on the same bolting plant. You needn't worry too much about cross-pollination as lettuce flowers are self-fertile and crossing rarely happens. That said, if you want to be more than a hundred percent sure, plant different varieties (from which you want to save seed) a few feet from each other. Do also try to save seed only from open pollinated varieties, as seed saved from hybrids may not grow to have the same shape and taste as the lettuce you had saved it from.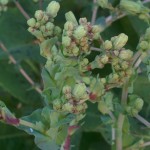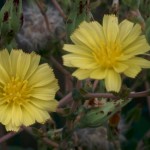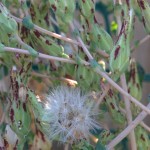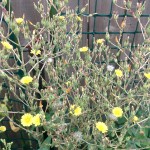 There are a few ways in which you can harvest lettuce seeds – some people place seed bags or paper bags over whole heads of growing lettuce to catch the seed as they ripen and loosen, or come by with a bag every few days and shake any loose seeds into it. Others may, when most of the seed heads show tufts, pull the whole plant and hang upside down to catch ripening seed. Another method, and the one I prefer, is to pluck the ripened seed heads from the plant each day – keeping them in a bag or jar until fully ripened – and then gently loosening the seeds for storage. Don't worry about the sticky milky sap that may irritate you as you pick the heads – it washes off quickly and easily! And don't stress too much when unopened buds and immature seedheads get picked with a mature one – you'll have plenty ripe ones that come around over the next few weeks. Discard any parts that aren't ripe or ripening (showing tufts). Shake loose dried and ripened seeds, or gently rub the seed head to loosen them, and store in a cool and dry place until you are ready to sow.