Rose Campion
These beautiful little flowering plants – both the red rose campion (L. coronaria) and white rose campion (L. coronaria 'Alba') do well in almost any garden situation, but what makes them extra exciting is that they are useful as xeriscaping plants too as they handle droughts really well.
Also known as Bloody Mary, Bloody William, Dusty Miller or Mullein Pinks, the plants have soft velvety grey foliage with flower spikes reaching up to 60cm high and flowers are deep cerise pink or white ('Alba') in late spring through to early autumn.
They selfseed quite readily, so don't be surprised if you find more of them popping up in your garden each season.
| | | | | |
| --- | --- | --- | --- | --- |
|  Size: | | 60cm | | 40cm |
|  Position: | Full sun | Part Sun | Well-drained soil | Xeriscaping |
|  Uses: | Flowers | Landscaping | Beneficial Insects | |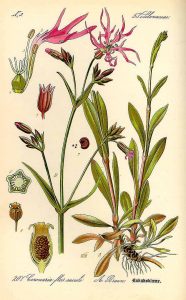 Ragged Robin
Just as beautiful, but preferring a marshy garden more than a dry one, is their cousin, Ragged Robin (L. flos-cuculi).
This perennial is native to damp lands in Europe and needs moist but well-drained soil. With its blue-green lance-shaped leaves and deeply divided pink flowers it is a very attractive plant suited to a wildlife / beneficial insect garden.
| | | | | |
| --- | --- | --- | --- | --- |
|  Size: | | 90cm | | 40cm |
|  Position: | Full sun | Part Sun | Well-drained soil | Wetland/Bog |
|  Uses: | Flowers | Landscaping | Beneficial Insects | |