Many herbs and vegetables fall in the mustard family (Brassica spp). Commonly known as cruciferous vegetables, they include numerous species of wild plants, weeds, and cultivated crops that give us fresh foods, medicines, and processed foods such as mustard and oil.
The mustard family give us various edible plant parts – roots (turnips), stems (kohlrabi), leaves (cabbages, kale, collards), flowers (cauliflower, broccoli), buds (Brussel sprouts) and seeds (mustard). Sometimes they're grown just for ornamental purposes too!
They are all highly nutritious with good levels of vitamins and minerals. They also boast immune boosting, anti-cancer and antibacterial properties.
Here follows a few of the mustard plants that we have:
Kale – Cavolo Nero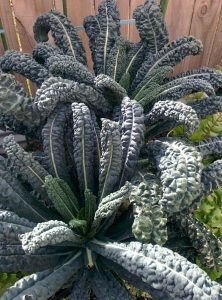 Also known as Lacinato kale, Tuscan Tree Cabbage, or Black Cabbage, Cavolo Nero has beautiful dark blue-green "embossed" leaves. Said to resemble what people think a dinosaur's skin looked like, it is also sometimes referred to as Dinosaur Cabbage. Delicious tasting, with a slight sweetness, it is high in vitamins and minerals.
Eat fresh in salads, lightly steamed, or quickly blanched and add to soups and stews. Also a favourite for kale chips, or in green smoothies.
| | | | | |
| --- | --- | --- | --- | --- |
|  Size: | | 60cm | | 40cm |
|  Position: | Full sun | Well drained | | |
|  Uses: | Culinary | Vegetable | | |
Kale – Pink Stemmed
A beautiful kale with finely fringed dark green leaves and a closely packed pink centre. The colours are best displayed when used as a fresh baby leaf vegetable, but mature leaves can be prepared by blanching, cooking, steaming, baking or adding to smoothies and juices too. This one prefers cooler climates, so best grown early in spring or in autumn.
| | | | | |
| --- | --- | --- | --- | --- |
|  Size: | | 60cm | | 30cm |
|  Position: | Full sun | Well drained | | |
|  Uses: | Culinary | Vegetable | | |
Mustard – Giant Red Leaf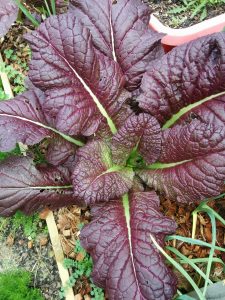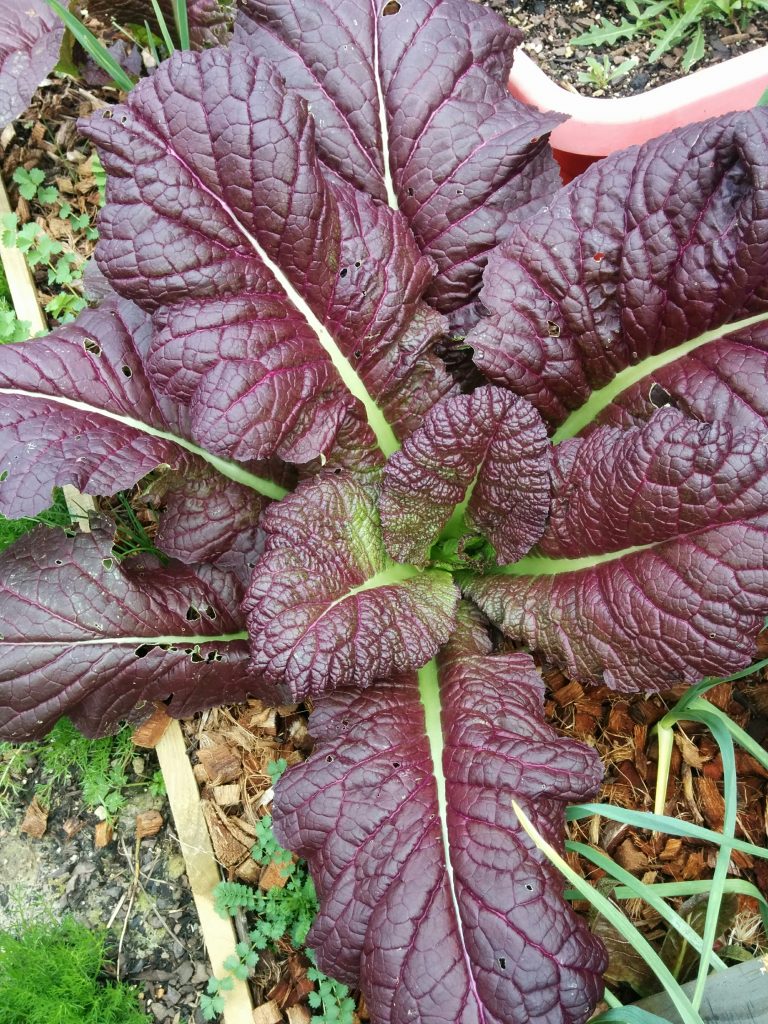 The large maroon and chattreuse leaves of the Giant Red Leaf (also Japanese Giant Red Mustard) are absolutely stunning in the garden and can serve as a pure ornamental. But the pungency of the leaves are delicious added to sandwiches, tossed into mixed green salads, added to Asian dishes, put into smoothies and juices, or eaten pickled. A bite of the more mature leaves, fresh from the garden, can clear up sinuses (akin to Horseradish), and are characteristically hot and mustard flavoured.
It does best in the full sun, but can tolerate partial shade.
| | | | | |
| --- | --- | --- | --- | --- |
|  Size: | | 60cm | | 60cm |
|  Position: | Full sun | Part Shade |  Well drained | |
|  Uses: | Culinary | Vegetable | | |