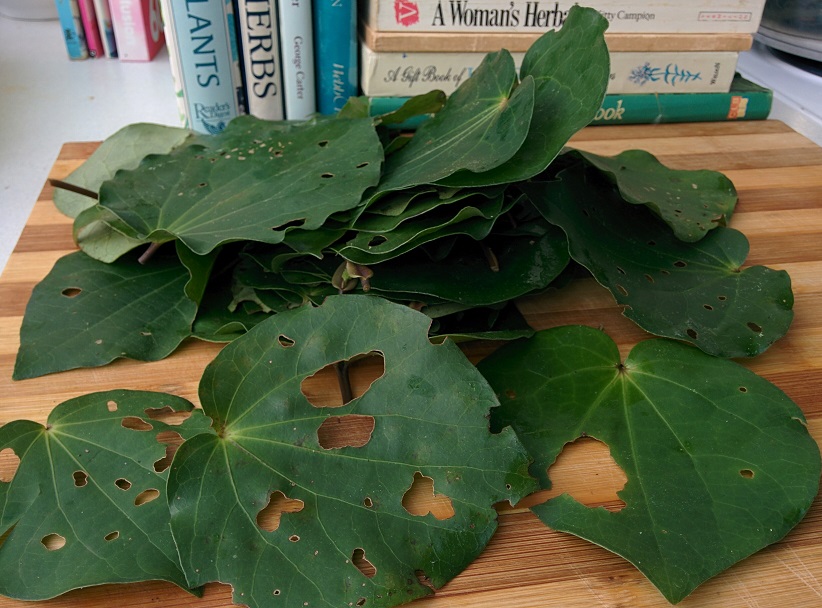 I'm a true believer in kawakawa now!
I've enjoyed the heart-shaped leaves and peppery fragrance of this native NZ plant (Macropiper excelsum) since I was introduced to it and its healing properties shortly after arriving in my new home country almost five years ago.
But I have only very recently made a kawakawa balm – and as luck (or unluck!?) would have it, I sprained my ankle really badly a week ago, and got a chance to try out the balm!
Every morning and evening, I massaged my sore ankle with the kawakawa balm, and it has healed incredibly well! Everyone still thought I'd be in a moon boot today, but I'm walking around almost with 100% mobility, and I am completely convinced it's the kawakawa balm that helped the healing!
Okay… perhaps a bit of the healing also has to do with the turmeric tea (golden milk) I took as anti-inflammatory, and that I rested it well. But definitely the kawakawa mostly!
I've had great feedback on the balm from other people that have tried it as well, so I can say with confidence that it is truly a lovely healing balm for sprains, strains, aches and bruises.
Aren't plants just amazing!?
Here's how to make your own
Kawakawa Balm
Ingredients
1 cup kawakawa infused oil *see note
30g Beeswax
Lavender essential oil (optional)
You'll also need sterilised jars, a fine sieve strainer, and a small pot
Method
Heat the kawakawa infused oil in the small pot on a low to medium heat until warm (not hot). If your oil has been solar infusing for more than 2 weeks, you don't need to leave it on the heat for very long, but if you haven't managed to solar infuse the oil, you can leave the oil gently warming for about 20 minutes to half an hour to heat infuse some more of the kawakawa goodness.
When the oil is warm, strain out the leaves, and add your beeswax (I have found grated beeswax melts faster) and gently stir until it is all melted together.
If you are using essential oil, add it now, stirring all the while to keep the ingredients well combined.
Pour into sterilized jars

kawakawa bottles

When cooled, seal your balm, and use when necessary on bruises, sprains, strains, stiffness and even eczema.
Note
To make a solar infused kawakawa oil, pick some kawakawa leaves and place in a wide-necked jar. Pick the leaves with holes eaten through them as these are believed to be the ones with most of the good medicinal ingredients. Pour enough oil over your leaves to submerge them, shaking gently to release air bubbles, and leave in a sunny spot to infuse for up to 2 weeks.
To make a heated or warm infusion, put your kawakawa leaves and oil in a double boiler and warm through for 20 to 40 minutes.
Rongoa (Maori mediicne)
It is traditional with all rongoa practice, to say a prayer (Karakia) before harvesting – giving thanks to Io (the supreme being), Papaatuuaanuku (Mother Earth), and Tane Mahuta (Keeper of the forest), and to appreciate the plant from which you are harvesting.