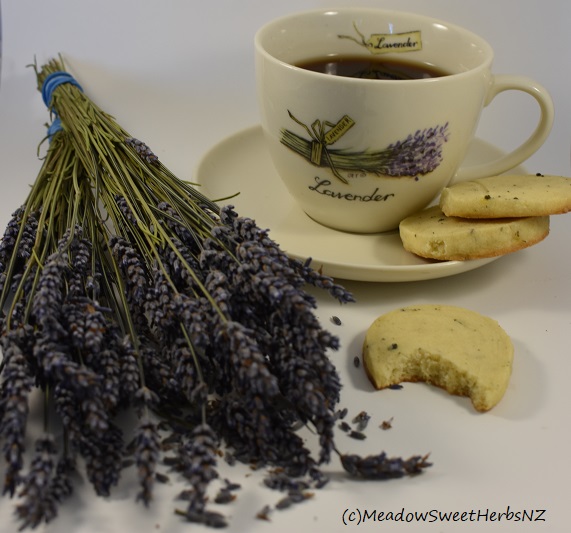 Ingredients
225g unsalted butter (1 cup), softened
Pinch of sea salt
115g caster sugar (½ cup + 1 tbsp)
285g high grade all purpose flour (2 1/3 cup)
55g corn flour, or rice flour (5 ½ tbsp)
1Tbsp lavender blossoms (or to taste)
Directions
Add butter and salt to your stand mixer bowl with the paddle beater attached, and mix on medium speed until creamy.
Add the sugar and mix for a further two minutes or so until the sugar and butter is well mixed together.
Add lavender blossoms.
Add the flours and mix everything on low just until the flour is mixed with the butter-sugar mix, and clumps start to form. Don't over mix.
(At this stage it still looks crumbly, but when you press some dough together in your hand, and it holds shape, it is ready.)
Using your hands (floured), press the dough together into a cohesive ball onto a floured surface, and roll into a cylinder shape.
Transfer the dough sausage to the refrigerator to cool - best wrapped in clingfilm. Chill for 30 - 60 minutes.
Cut the disk into slices, about half a centimeter thick and place on a cookie sheet.
Cool in fridge again for at least half an hour before baking.
Bake in a preheated oven at 150C for about 20 minutes, or just until the bottom of the cookie edges tart to turn a golden colour.
Remove from the oven and cool
Sprinkle with extra castor sugar if you like, and store in an airtight container.
I've been making these melt-in-the-mouth delights since I first opened The Little Herb Cottage (my first herb shop and herb nursery business back in South Africa in 2005!) and supplied the local cafe with these edible flower treats too. Most of the time they are met with "ooh!" and "ah!" - and are even loved by my kids and their friends.
Want to know more about Lavender as an edible flower? Check out: Edible Flowers - Lavender