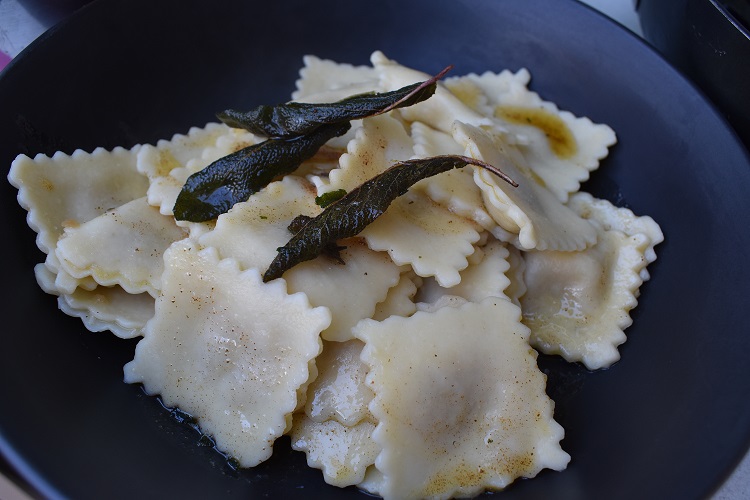 A culinary match made in heaven - butternut and feta and sage. Add in the nutty taste of burnt butter, and throw in some pasta, and you have a meal on your hands that would make any Italian Nonna proud!
You can use any culinary sage for this dish - I used a trio of sages - common sage (Salvia officinalis), purple sage (Salvia officinalis 'Purpurea') and golden sage (Salvia officinalis 'Icterina'). 
Sage is a wonderful common culinary herb to have growing in your kitchen garden - it has a strong, slightly bitter taste that pairs well with poultry, fatty meats, and with liver or kidneys. It keeps its flavour even in long cooking dishes, so add it to soups and stews too.
Not only does it taste good - sage is a bit of a wonder herb medicinally as well - linked to increased memory function, improved cholesterol levels and better digestion.
Ingredients
Roast Butternut
1 Butternut squash, peeled and cubed
Drizzle of Olive oil
Salt and Pepper
Pasta
200g plain white flour
100g semolina 
3 eggs
Burnt Butter with Crispy Sage
115g butter
12 fresh sage leaves
Method
For the butternut, add the cubed butternut squash to a roasting pan, drizzle with a dash of olive oil, and season with salt and pepper. Bake in a preheated oven at 180C for about 30 minutes, until the butternut is soft and just starting to caramelize. Take from the oven and let cool before roughly mashing it with a fork.
Add the flours to the bowl of your stand mixer with the dough hook attachment, and mix until well combined, now start adding the eggs and beat until a dough is formed. Remove the dough and knead for a few minutes, wrap in beeswax wrap and let sit in the fridge for at least half an hour to relax. 
You can also make this by hand - add flours to a bowl and create a well in the center - add the eggs into that well and start combining the flour from the sides into the egg with a fork until all is incorporated. Knead and proceed as above.
Once the dough is rested, roll it with a pasta machine into lasagna sheets and lay them flat on a floured surface.
To make the filling, break a block of feta cheese into the cooled butternut squash and mix through. Add a tablespoon of mixture at a time onto the pasta sheet. Lay another sheet over the first, cupping the filling, pressing as much air out as you can, and making sure the pasta sheets seal onto each other. Cut into ravioli squares. Or use a cookie cutter for a round ravioli shape.
Cook filled ravioli in a large pot of salted boiling water for a few minutes, drain and reserve.
To make the burnt butter sage sauce - add the butter to a small saucepan over medium to high heat until the butter is melting. Watch the butter closesly - when it starts bubbling, add the sage leaves which should fry and crinkle up almost immediately. Continue to swirl the saucepan over the heat until the butter just starts to turn brown - don't overcook!
Drizzle over served pasta and add a few crispy sage leaves.