Your past does not equal your future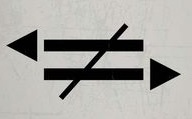 A new year, and a new set of goals, or at least, let's be honest, a new (re)start on an old set of goals! And you know what, that's okay - I've realized that it is never too late to start, or at least, start again. Without getting too philosophical, this (right now) is not where your story ends, but where it starts. Each day. I saw the image on the left on Pinterest yesterday, and it kind of stuck to me, and I'd like to use it as an inspo for the week... month... year... decade. YOUR PAST DOES NOT EQUAL YOUR FUTURE.
The plan for now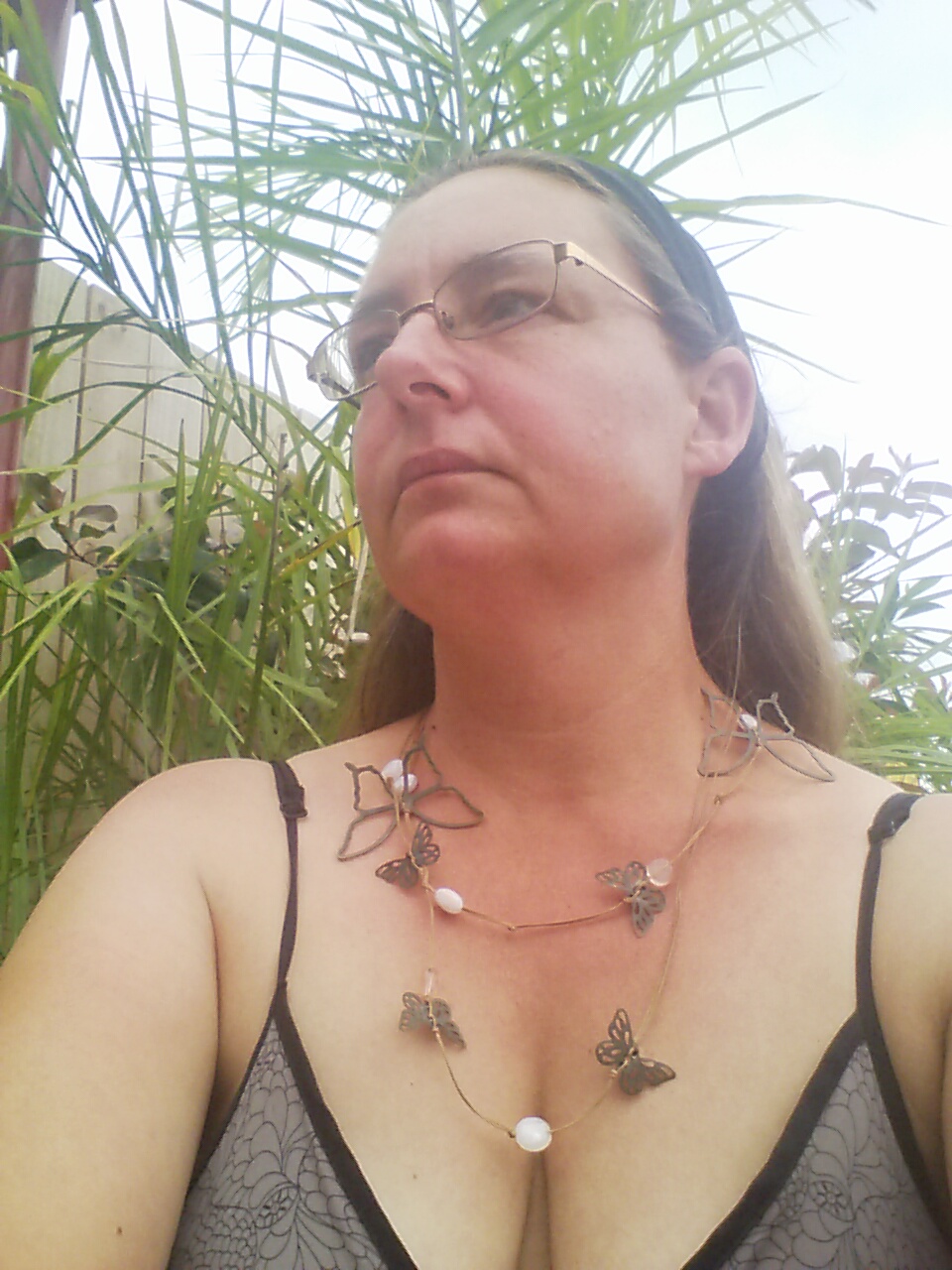 So what's up in my garden? So glad you asked. In my thought garden lots of ideas have sprouted, one of them is to blog more regularly. On here. About my garden, my herbs, my homesteading goals, my life toward self-sufficiency. Always working on my goal to get more and more people inspired to not only grow their own food and medicine, but to use it too! Won't you follow me on this journey? Great!
I'll start with this kind of thing - a week in retrospect.  I'll try to blog each Monday about the past week - noting special things happening - the good and the bad - in the garden for the season, what I made from my garden food-, medicine-, cosmetic-, or craft wise. And share whatever little things and big things I learned that week - in the garden, and in life in general.
Did you like the monthly newsletters I did? Well, they'll go ahead too. But I'll blog the bits all separately too in the first week of the month, so you can find them easily if you aren't subscribed. A gardening to do list for the month, including a PDF lunar calendar, a featured article (which may be a focus on a herb, an ailment, an idea), a herb of the month, a vegetable of the month, a flower of the month... Sounds good? Yeah! Oh... and of course, recipes galore.
Week in Retrospect
And now for this week's Retrospect, or what's up in my physical garden:
Weather and Water
It's hot, and it has been a while since it rained. Luckily the last deluge filled our tank, so we're not in dire straits for water yet, but it's not the water that's a problem in the garden this season - it's the heat, or lack of consistently warm temperatures, actually. Yeah, I know it's getting toasty out there in the middle of the day, and the UV is skyrocketing, but evenings still get cool... cold even if there's a wind coming in from the south. I'm pretty sure that the long cool spring and only-now-warming-up summer has seriously affected the growing and ripening of my summer fruiting vegetable crops.
Tomato, Zucchini and Cucumber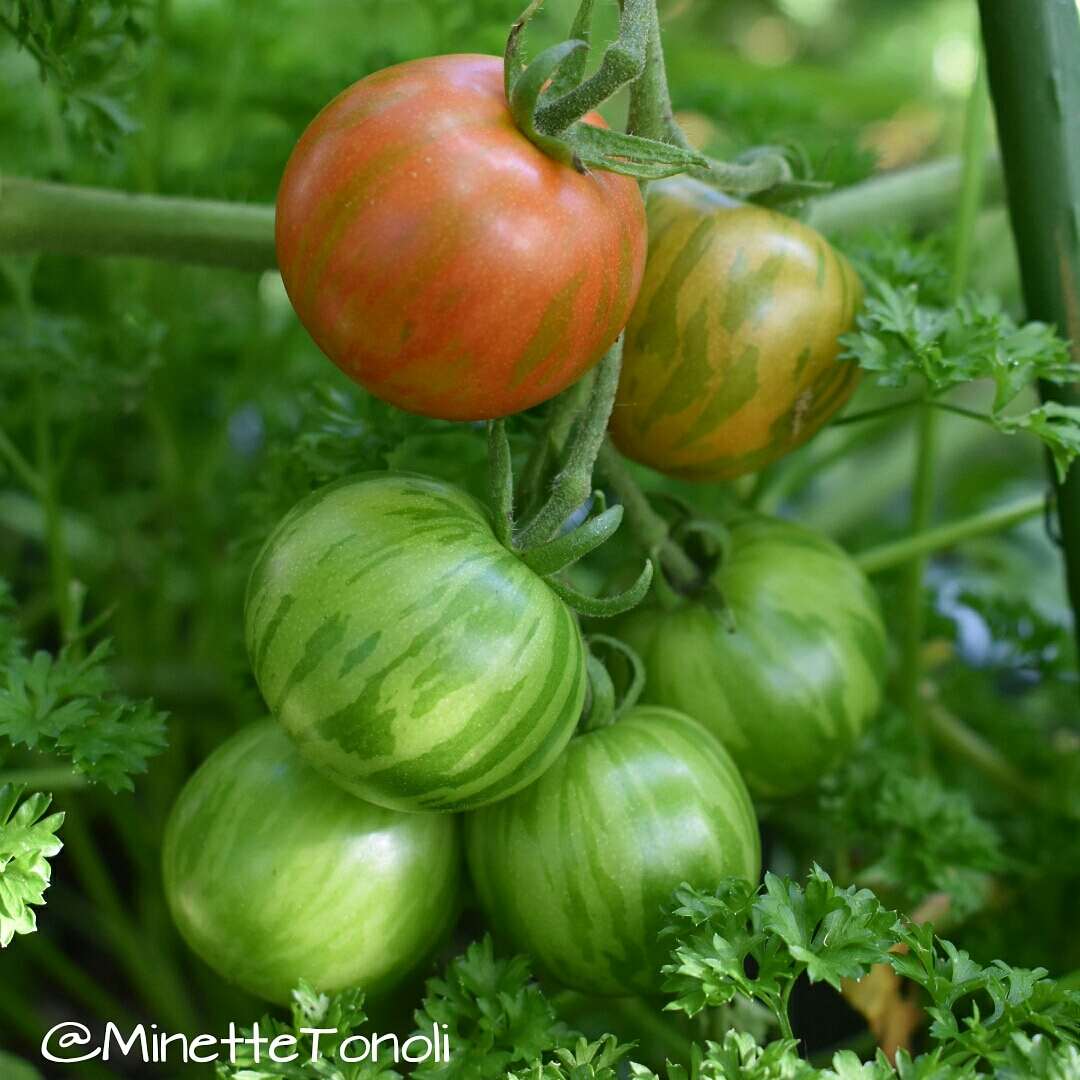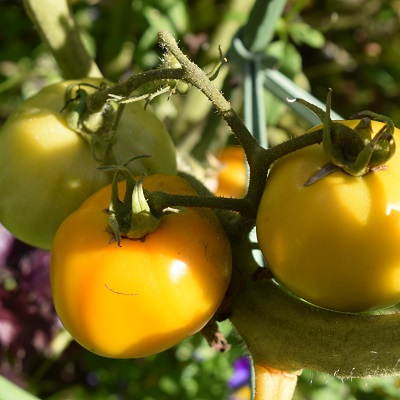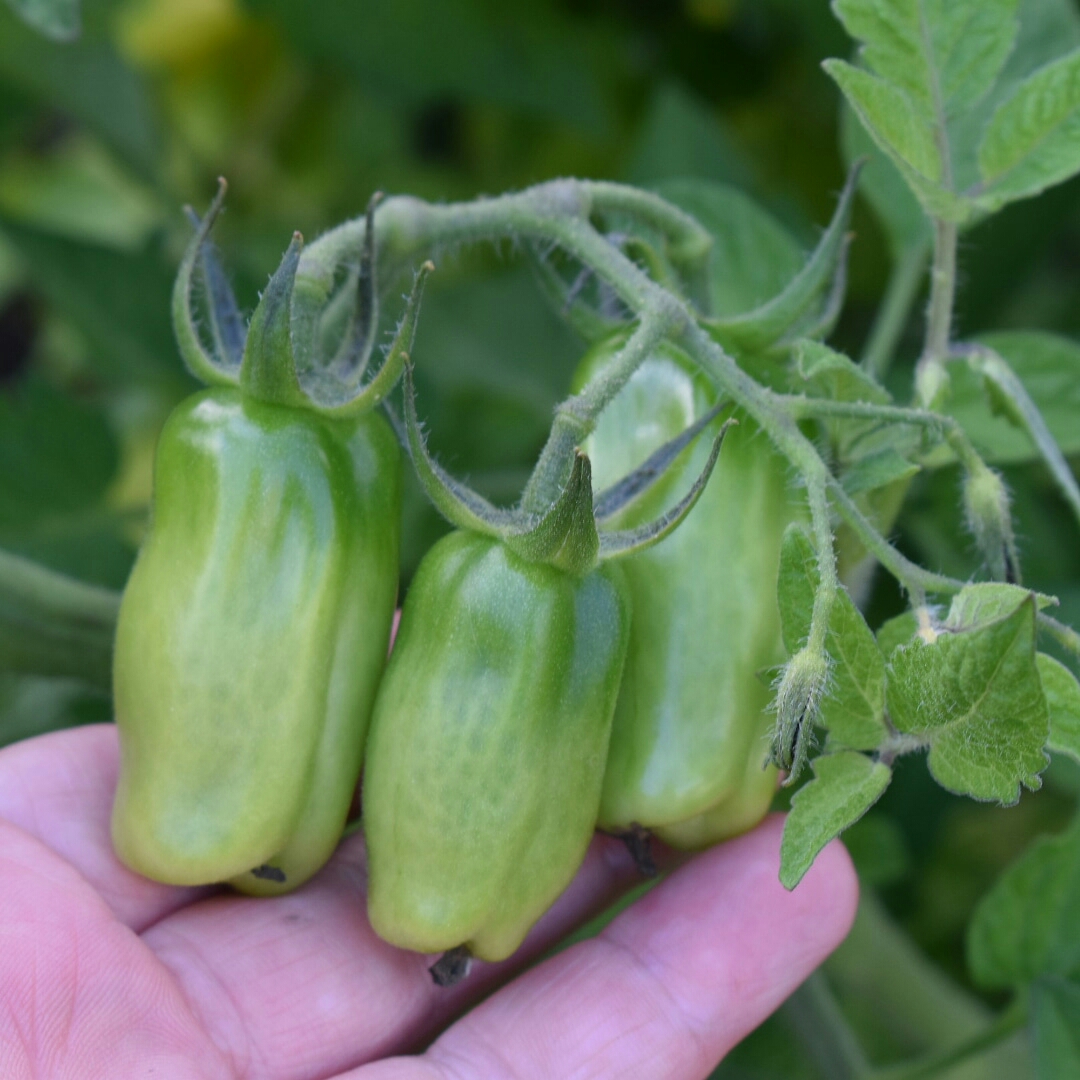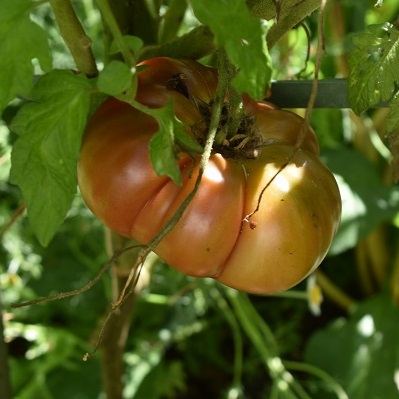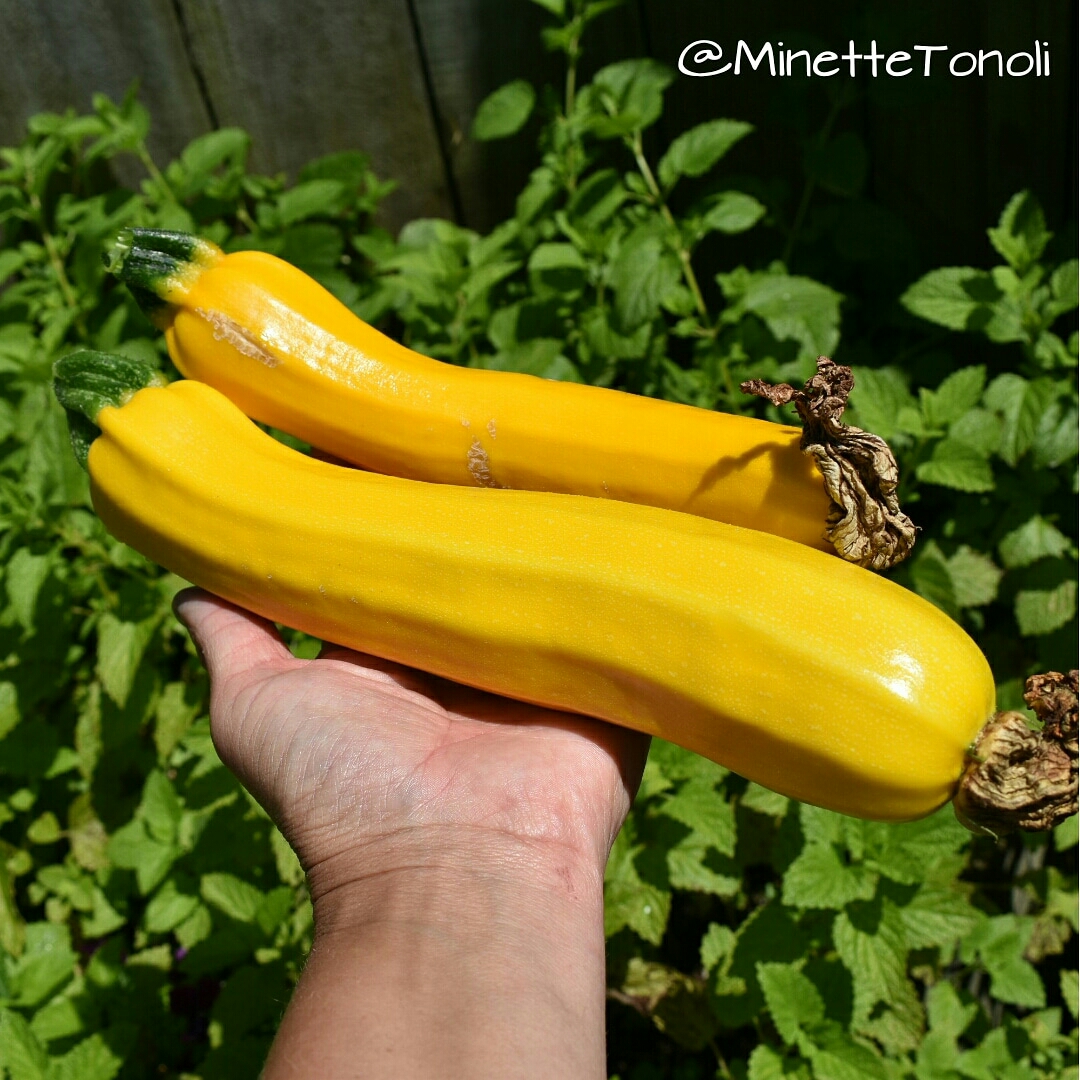 Honestly, I had baskets full last year of tomatoes, zucchini and cucumber by January (actually started picking mid December according to my photologs), and now only am I finding tomatoes ripening one by one, a few zucchini still tagging along, and ONE cucumber forming... Oh well! It's always a bit of fun playing with an opponent, or collaborator if you will, that's as fickle as Weather!
Complaining done! I'm happy to report that although they seem to be late, there's a great abundance of fruit forming on all the plants. And at least I have no mildew (yet), or signs of any other weird fungal or bacterial disease on any of my summer vegetable crops.
Garlic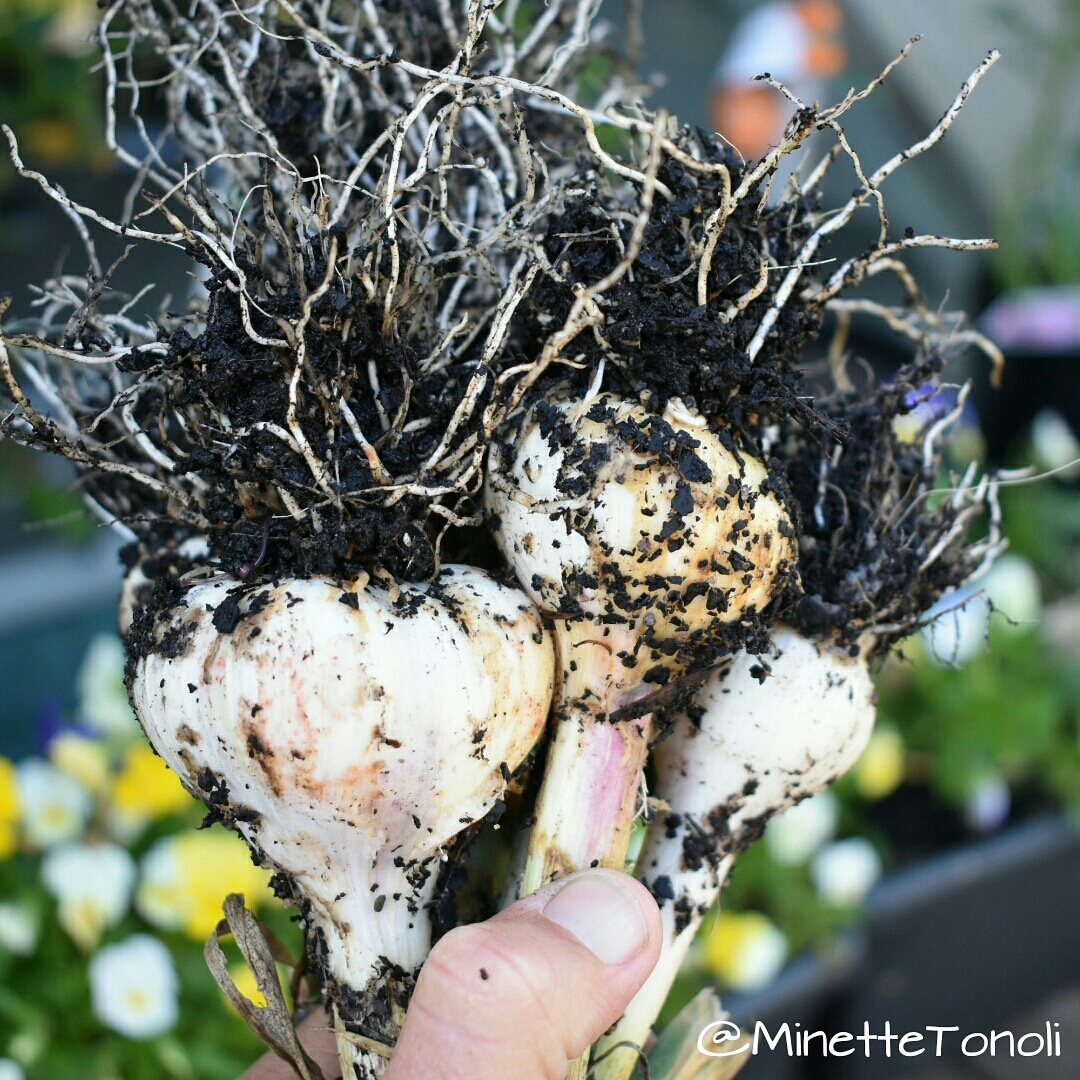 The garlic on the other hand finally got covered in rust, after having a really wonderful growing season. I put my bulbs in pots in May, and they have done exceptionally great - much better than they ever did in the ground or even my raised beds! So, I think I'll give the pot thing (or at least trough thing) a go again next year. Sure, I did end up with the dreaded rust fungus, but only much later in the growing cycle when most bulbs were already fully formed, so by the time I decided that I'm not winning the spray-free war on rust spores, and yanked the garlic all out, they had really nicely formed heads. Most of them.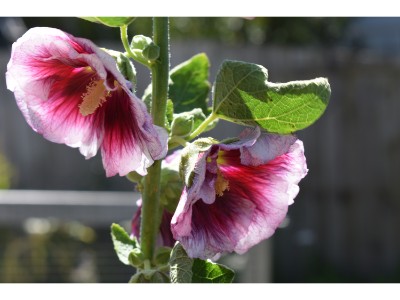 Hollyhocks
Another rust (different strain) attacked my hollyhocks too. But they're seemingly not too bothered and are blooming delightfully. It's difficult to try and take a perfect picture though of their flowers without a rust-marred leaf getting in the way...
I'm especially happy with my latest hollyhock acquisition - Creme de Cassis. She's stunning! Can't wait to save seed and start a whole row of this colour.
Unfortunately my other new one, Peaches And Dreams, has not yet flowered, and shows now sign of a flower spike forming, but it may just be a bit late. But as hollyhocks are classed as a biennial, and I did start this one from seed, it just may be that she'll be a dame to the ball of summer next. Always something to look forward to!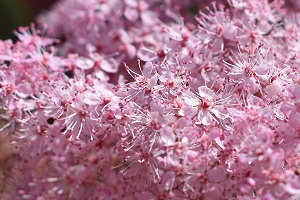 Meadowsweet
And I had been looking forward to this lady flowering for a long time! Originally got sent a cutting of pink flowering meadowsweet, also known as Queen of the Prairie (Filipendula rubra) around 2015, and while she performed spectacularly in my friends' garden (whom I split the cuttings with) even that first year, has only now come into her rights in my garden. And very excitedly I spy what seems to be my true meadowsweet, also known as Queen of the Meadow (Filipendula ulmaria) making a flowering head! This is wonderful to me, as it is the namesake of my business - MeadowSweet Herbs & Flowers.
MeadowSweet (a bit of history and a herbology lesson)
A name that took me and my friend (who started my business with me in 2015) a long time to get to agree on! She wanted something flowery (she loves her flowers), and I wanted something herby (ahem... of course! How do you know me?). We finally settled on MeadowSweet because a meadow is full of flowers (friend is happy), and of course, meadowsweet is an exceptional herb too (me happy).
As a matter of fact, meadowsweet is a great example of how modern medicines are often derived from plants - you see meadowsweet has an analgesic compound called salycilic acid (salycites are found in willow bark and some other herbs too), which has been extracted and eventually synthesised to form modern day aspirin. Aspirin is even named after the plant that led to it's development - derived from the name of the chemical ASA—Acetylspirsäure in German, and spirsäure (salicylic acid) was named for the meadowsweet plant, Spirea ulmaria (meadowsweet's Latin botanical name back then), from which it could be derived.
Also a wonderful way for me to always introduce my love of whole plant medicine... but we'll leave that tidbit for another day.
In flower/fruit in the garden
Other flower and fruit powers that I got to enjoy this past week, even if their healing effect was only in lifting my mood, in my garden include all of these beauties:
Bringing it home
You know by now that I'm obsessed with useful plants, and if I profess to inspire you to use your plants in your home, I better be doing the same, right!? So here's what I made from my garden this week (and a few from over the holidays):
1. Blueberry & Lemon Basil Smoothie
2. Chive and Parsley Scrambled Quail Eggs
3. Herb Jellies (Thyme Jelly, Mixed Herb Jelly, Chilli Jelly)
4. Butternut and Feta Ravioli with Burnt Butter and Crispy Sage
5. Summer Vegetable & Herb Rose Tart with Thyme-Semolina Crust